Asda to let customers collect shopping at London tube stations
The low-cost supermarket is finding new ways of capturing customers as it's revealed the 'big four' supermarkets are losing market share.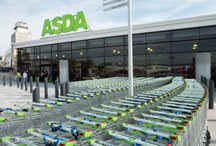 Asda has teamed up with TFL to allow its customers to pick up shopping ordered online from six London Underground station car parks.

Like other retailers, Asda is looking to capitalise on shoppers' increasing demand for 'click-and-collect' grocery options. The proposals mean that commuters can order their shopping online before midday and pick it up after 4pm from the tube stations East Finchley, Harrow and Wealdstone, High Barnet, Highgate, Stanmore and Epping. Asda said customers will request a delivery slot, and a van will be waiting to greet them in the car park. There will be a two-hour window, and 'if the customer doesn't arrive within those two hours, the delivery driver will call to find out their whereabouts.'

Asda, which is now the third-largest supermarket in the UK behind Sainsburys, has already trialled similar collection services in Nottingham and Reading.

The proposal comes as figures suggest the 'big four' UK supermarkets are all losing market share for the first time on record. Tesco, Asda, Sainsbury's and Morrisons saw their market share drop in the three months to November 10 compared to a year ago, according to data from market research firm Kantar. Tesco's market share dropped from 30.5% to 29.8% in the past year and Asda's share fell from 17.6% to 17.2%.

Continuing consumer angst has meant people are looking to save money where they can, and budget supermarkets such as Aldi and Lidl are reaping the benefits. Shopper numbers at Aldi are up by 16% on a year ago, while the amount each customer spends has risen by 15%.

The boost means that Aldi's total share of the grocery market has gone up from 3% to 3.9%, Kantar said - and in the past 12 weeks, a third of British households have shopped at Aldi.

At the other end of the scale, Waitrose has also had a boost from more affluent customers looking for premium products, with sales up 8.8% in a year.

Asda's latest move to introduce collection points at London tube stations is part of a five-year strategy detailed last week that included increasing its click-and-collect points to 1,000 from 218, while also extending its footprint in London and southeast England, where it has fewer stores than rivals. Asda plans to spend more than £1bn on price cuts and product innovation as it looks to expand its share of the UK grocery market.