Asda raises the stakes in the bid for customer loyalty
Asda reckons more transparency will lead to more loyal customers. But how far can it really go?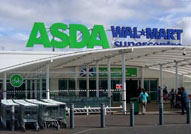 Supermarket chain Asda has unveiled plans to 'lift the lid' on the way the business is run, while getting customers more involved with product selection and testing. CEO Andy Bond announced this morning that Asda is launching a string of new initiatives intended to address consumer demands for openness and transparency – including introducing webcams in factories and replacing brick walls in-store with glass ones. He reckons this is the best way to improve consumers' trust in business, currently at its lowest ever ebb as a result of the recession. It's an interesting new front in the supermarkets' war for customers – but does Asda really want to be airing all its dirty laundry in public?

Asda's plan to get customers onside is three-pronged. From January next year, in an initiative called 'Chosen by you', an existing community of 18,000 regular Asda shoppers will be drafted in to help test new products and influence purchasing decisions, product development and packaging. A new blog will be launched, allowing consumers to trace the journey of the supermarket's products via webcams. And it also wants customers to come up with ideas to save the company money – for which they'll apparently be rewarded 'not with a basket of shopping, but with cold hard cash'. Bond says Asda will stump up 5% of the first year's saving as a reward for customers' money-saving ideas (and pocket the other 95%, presumably).

Competition among the UK's supermarkets has intensified during the recession, with many slashing prices and stepping up promotional activity to try to entice new customers through their doors. But retaining existing customers is also important: hence why Sainsbury's has just announced plans to invest millions in a coupon-based loyalty scheme. However, Bond thinks they're missing a trick. 'I firmly believe that customer loyalty cannot be bought with plastic points or discount vouchers, it has to be earned,' he said primly today. Instead, he reckons we're entering an era of 'democratic consumerism' where 'there is no behind the scenes at Asda'.

Notwithstanding the slight cheesiness of all this, we can't help thinking Bond's plans to ramp up transparency might open up a can of worms. Will Asda install webcams at farms and slaughter houses, for example? Will it film its meetings with suppliers, when it's hammering them down on price and payment terms? Will it start streaming its board-level strategy discussions live over the internet? Bond is adamant that this new strategy can be taken as far as necessary to meet with customers' demands, but we can't see it. We're all for businesses being more transparent with their customers, but there are some things that it's just not practical or possible to be transparent about.

In today's bulletin:
BAE threatened with £1bn fine as SFO gets tough
Asda raises the stakes in the bid for customer loyalty
Why shouldn't Northern Rock boss get another chance?
Editor's blog: The limits of online advertising
Budding green entrepreneurs short of role models