Asda and Tesco target Ocado - as online retail boom continues
The average punter spent £81 online last month. Good news for Ocado? Not necessarily...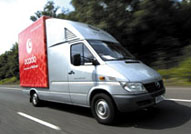 According to figures released today, the internet shopping boom continues apace - the amount of money spent online in the UK last month was up a whopping 18% on last year. So it's no wonder Asda wants a bigger piece of the action: on Monday the supermarket chain is opening a new distribution centre designed purely to service online orders from customers within the M25. With Tesco also apparently plotting a similar move, that could spell trouble for Ocado. Already a bit bruised from its not-entirely-successful flotation saga, it now faces the prospect of a sustained assault on its home turf from the sector's two biggest beasts...

On Monday, Asda will open the doors of its brand new 'dark store' in Enfield - so called because it won't actually allow any customers in (and 'dark store' sounds much cooler than 'warehouse'). Instead, its 300 staff will spend their days bagging up orders for online shoppers. All Asda's internet orders are fulfilled this way (as are Tesco's, which is also about to open a dark store to service the London area). But without those pesky customers getting in the way, the company says it could increase the rate at which items are packed by about 30%. Asda's theory, apparently, is that this is the easiest (and cheapest) way of increasing its market share in the London area, where it currently has relatively few stores - 27, out of a total of 377.

And just in case it wasn't already clear enough that this was a direct challenge to Ocado, Asda boss Andy Clarke has also been having a pop at its rival's more expensive approach - which involves hi-tech automation, rather than low-paid bag-packers. 'It's probably going to cost us less than £5m,' he said, adding pointedly: 'Some of our competitors raise significant sums. We cannot work out what they're doing with that'. Wonder who he means?

It might be that Asda and Tesco see Ocado as being a bit vulnerable in the wake of the latter's difficult flotation; the share sale got away, but at a lower price than it hoped, and it's come in for lots of stick about never making a profit. Ocado is not wavering from its approach: it's about to spend £200m or so in another high-tech distribution centre - the theory being that this investment will pay dividends in the long run. But with Waitrose now free to compete against it, and Asda and Tesco both eyeing a bigger piece of the pie, the competition is getting tougher all the time.

The good news - for all concerned - is that online retail is still growing like topsy: according to industry body IMRG, the average UK shopper spent £81 online last month, which adds up to about £5bn - 18% more than the same month a year earlier. Perhaps the rising online tide will lift all boats?
In today's bulletin:

Asda and Tesco target Ocado - as online retail boom continues
Bad managers to blame for local government inefficiency?
Rise of hackers behind Intel's $8bn McAfee bid
Chrysalis sings the praises of ad royalties as profits jump
Small businesses bear the brunt of slowing bank lending