Ashley bets on Debenhams' decline as he sells his stake
Well... that lasted about 10 minutes. Although Sports Direct founder Mike Ashley could end up with a 7% stake in Debenhams if things go his way.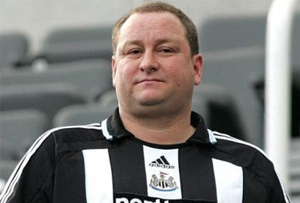 Sports Direct founder Mike Ashley would never be described as a 'cuddly fella' - but he's treating Debenhams for all the world as though it's not a nationally beloved retail institution.

Just four days after surprising everyone by buying a 4.6% stake in the department store, he's sold it, and instead taken out a put option that could leave him with a 6.6% stake. Basically, Ashley is betting that things are going to get worse at the department store before they get better. Charming.

Put options essentially give the owner the right, but not the obligation, to buy a share in something. If shares in Debenhams fall, Ashley will end up paying less for his stake. If they rise, he receives the difference. It's savvy business - but won't exactly inspire loyalty from Debenhams' staff.

If Ashley does end up with that stake, he would become the third-largest shareholder in Debenhams - which would help enormously when it comes to his (reported) ambition to be the next (Topshop boss) Sir Philip Green. Although this is one of the the first times Ashley has stretched beyond sporting goods retail: although he bought fashion chain Republic last year, he has also bought stakes in JJB, Adidas and JD Sports. Oh, and Newcastle United, natch.

When Ashley bought his stake in Debenhams earlier this week, its shares jumped by more than 5%. Now, investors seem less sure: shares dropped by just under 1% in early trading. Which, to be fair, is exactly what Ashley wants. Looks like his plan is working...