Ashley spends £3m at JJB
Mike Ashley has increased his stake in JJB Sports, boosting the coffers of his old mucker Chris Ronnie...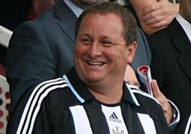 Ashley's Sports Direct has bought a stake of around 5% in JJB, the high street sports retailer that has been feeling the heat in recent months. It also emerged that Sports Direct controls another 15% through contracts for difference, so as a result of this latest deal it now effectively has a 21% stake in one of its biggest rivals. JJB said the cash injection would put the group on a 'more secure financial footing' – in other words, with speculation mounting about its future prospects, it really needed the money…
It's been a tough year for JJB. As the slowdown in consumer spending affected sales, the company has been forced to cut jobs and close stores. It even admitted last month that it had breached its banking covenants (financial health metrics demanded by the bank as a condition of financing), which led to auditor warnings about its prospects and credit insurers withdrawing their cover for the group's suppliers. To add insult to injury, one of its biggest backers was an Icelandic investment group called Exista – which has problems of its own at the moment. All of this has hammered the group's share price – it's lost two-thirds of its market value in the last month alone.
As for Sports Direct, this looks like another classic case of Ashley looking to pick up a bargain on the cheap, while extending his influence within his retail segment – he already owns stakes in the likes of JD Sports and Blacks Leisure. Sports Direct says its policy is to make investments that provide 'the opportunity to gain a strategic or commercial advantage' – and since Ashley made nearly £1bn when he floated the retailer, he's one of the few people around with enough cash to take advantage of his rivals' misfortunes.