Ashley strikes back
Sports Direct boss Mike Ashley has been at it again, branding the City's reaction to his company 'pathetic'. But he's not going to take his baby private again, he insists.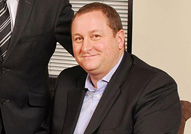 Ashley was unveiling Sports Direct's interim results, which were remarkably full and frank by the company's previous standards (usually it makes the Cosa Nostra look like a model of transparency). Sadly that didn't mean the news was any better – profits in the half-year to October were 70% down on last year, in what it described as 'an exceptionally challenging trading environment for the UK sports retail sector... the most difficult trading period in our history'.
As such, the 70% fall in its share price since its flotation this year seems pretty reasonable. But the ever-diplomatic Ashley doesn't agree. He told reporters today that the current stock rating was 'pathetic' ('I use the word 'pathetic' but I'm supposed to say 'significantly undervalued,' he added helpfully), and suggested that it should be nearer 800p – almost ten times its current level. Ashley said the City had 'completely over-reacted' to events Sports Direct could not be expected to control – namely the weather and England's failure to qualify for Euro 2008.
Analysts have been putting the boot into Sports Direct all year for its 'novel' governance structures and refusal to provide comparative sales numbers. But Ashley reckons this is ridiculous. 'You can't compare a non-World Cup year with a World Cup year. It's meaningless so you won't learn anything from it. It's not that we're being difficult, but we don't do it,' he told reporters today. Difficult? Sports Direct? Never…