Asian Jewels in the crown?
Could the credit crunch prove to be a boon for Islamic banking - and for Asian entrepreneurs?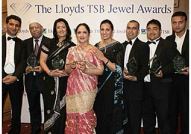 It's been another rotten week for our big banks, whose struggles continue despite the best efforts of governments. But according to accountants BDO Stoy Hayward, their woes could provide an opportunity for Islamic banks. Since they've generally been much more conservative (for which read: much less leveraged) than their conventional Western counterparts, they've been less affected by the problems in the credit markets – which could make them a much better bet both for investors seeking stable returns, and for entrepreneurs on the hunt for financing…
Indeed, BDO's head of banking Dan Taylor reckons these two factors – reliable investment products and conservative financing – could lead to a huge growth in Islamic banking. Already, 20 of the big banks operating in the UK have Islamic finance units, and Taylor thinks the number of stand-alone banks (currently at five) will also increase. 'In light of the market turmoil, we could expect the number of stand-alone Islamic financial institutions present in the UK to double over the next three years,' he says.
One bank that's already recognised this is Lloyds TSB, which this week held its latest Southern Jewel awards to reward (and network with) the cream of UK Asian business talent. Five years ago the bank established a specific Asian markets division: run by 29-year company veteran Kamel Hothi (who was once TSB's first ever Asian bank manager), the division offers Islamic finance products like mortgages, bonds and current accounts.