Asil Nadir ordered to pay £5m to administrators
The former Polly Peck International boss who was recently jailed for theft has been ordered to pay £5m in compensation to his administrators.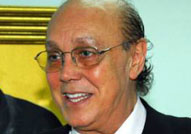 Ironically, the compensation order comes just over a month after Nadir told the court that he does not own any assets, does not have any cash, and has been relying on the generosity of friends and family to get by for some years. Prosecuting lawyers are convinced that Nadir has lied about how much cash is still stashed away, even though he has been made to disclose his finances in full under a Financial Circumstances Order.
So, if you haven't been keeping up with this story: the 71-year-old businessman was sentenced in August to 10 years in jail for stealing almost £30m from his company in the late 1980s. The firm, Polly Peck International, collapsed owing £550m to creditors, and when Nadir found out the Serious Fraud Office were investigating some payments the company had made to him, he took flight to Cyprus.
No one could get the cuffs on him, and he stayed out there in the sun for almost two decades. Cyprus has no extradition agreement with the UK, so he couldn't be forced to return either. The judge, Mr Justice Holroyde, said it was not true that Nadir had not had any significant income since returning to the UK, and therefore that he has two years worth of tax to pay. If he doesn't, he could face an extra six years in the slammer.