ASOS profits boosted by overseas markets
The online clothing retailer has announced soaring profits thanks to a surge in international sales growth, particularly in America.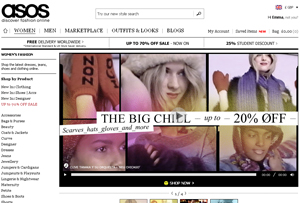 Amongst retailers, ASOS has been one of the golden performers throughout the recession. According to its latest results for the year ending 31 August, it raked in pre-tax profits of £40m, compared with £12.6m at its last year-end. Even more notable is that this was off the back of a 37% increase in sales from £403m to £552.9m. The firm puts the growth mainly down to booming sales in America and Australia. Howdy partner. G'day mate.
So, drilling down into the numbers a little, it is definitely the international business that has done the legwork for these figures. Overseas sales jumped 64% to £332.6m, with US sales in particular jumping a massive 91% to almost £50m. For comparison's sake, UK sales climbed a relatively small 10% to £205m. As CEO Nick Robertson explained: 'We have reached a milestone of five million active customers worldwide.' From humble origins as a little e-commerce start-up, this is a laudable effort.
Robertson added: 'During the period we improved our product offer in terms of range, quality and price, invested in our customer proposition, made progress in developing the ASOS platform and continued to drive efficiencies from the business to fuel our future growth.' Sounds a bit jargon-heavy, but we take his point. He's been on a bit of management mission too, appointing a new marketing director and supply chain director. Oh yeah, and he's also recruited former M&S executive Kate Bostock as director for product and trading to import some heavyweight retail experience into the boardroom.