Assertiveness can make or break you
You can't have too much charisma, drive or intelligence, especially if you aspire to be a leader. But assertiveness, widely recognised as another key leadership characteristic, is apparently a subtler commodity.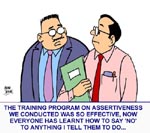 According to organisational behaviour expert Frank Flynn, the greatest identifiable trait that can hold somebody back from becoming a great leader is being too assertive - or not assertive enough.
In a soon-to-be-published paper, Flynn reports on a striking phenomenon he observed while teaching an organisational behaviour class at Columbia Business School with Daniel Ames.
The major class assignment required students to obtain anonymous feedback on their leadership and management styles from former work colleagues. "Again and again, the issue of too much or too little assertiveness came up in evaluations of students' weaknesses," says Flynn. "It was hard to miss, yet we realised this issue had been barely addressed in the research literature."
After analysing three years' worth of written and survey data on students, as well as students' assessments of their own former bosses, Flynn and Ames found that excessive or inadequate assertiveness was the number one issue listed in the weakness column when it came to evaluating individuals' leadership potential. Specifically, the researchers found an inverted "U" between the ratings of a person's assertiveness and his or her leadership ability: up to a certain point it was positively associated, but then it went back down.
"The analogy we use is that assertiveness is like salt in a sauce: too much spoils the dish, but too little is equally distracting," Flynn says. He adds that at the "just right" point, assertiveness disappears as a leadership quality, either positive or negative. "While getting assertiveness wrong in one direction or the other dominates perceptions of weakness, getting it right is not a major theme in perceptions of strengths," he says. "In other words, nobody ever compliments a chef on a perfectly salted dish."
Over-assertiveness or excessive passivity prevent leaders from operating effectively, Flynn argues. But this does not mean that good leaders should aim to always be moderately assertive, he says. "A better way to look at it might be that a good leader knows how to pick their spots - when to come on strong and when to hold back."
A big part of assertiveness management is to be aware of how your behaviour affects others. And this is easier for the meek than the mighty. "Very unassertive people generally realise they're too passive and are being stepped on," he says. "But aggressive people tend to have no clue as to how they're being perceived."
Source:
Assertiveness can make or break you
Stanford Graduate School of Business
Frank Flynn
Review by: Nick Loney