Asset Match: The startup shaking up how private shares are sold
Two former City traders are on a mission to make private company shares more liquid.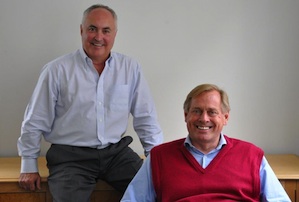 Technology has brought a new vibrancy to London's financial sector. While the industry may remain a stereotype of pinstripes and fat cats in the eyes of the public, today's financial entrepreneurs are made from a new mould, using their digital savvy and new ways of thinking to shake things up.

Though they may be old hands who cut their teeth over three decades on the City's capital markets, Iain Baillie and Stuart Lucas have devised an innovative solution that could be set to shake up the way private company shares are bought and sold.

Asset Match was inspired by an investment Lucas made into private firm IntegraFin back in 2000. The company grew substantially over 11 years, but with no 'equity events' occurring there was no easy way to take the cash out of the business. This is a familiar problem for private company investors, who can't trade on public markets and often need approval from the board or other shareholders to sell any of their stake.

'You start to get shareholders making a bit of noise to the board,' Lucas told MT. 'They say we'd like to take some chips off the table, our circumstances have changed.'

For some established companies the answer to this is to go public. But the significant direct costs of this, as well as the hassle of complying with reams of additional regulation, can often make it an unattractive option.

'The cost of a company going on to public market is very high, and for many companies it's hard to see where the value comes from in that process, particularly if they're not raising new money,' says Baillie.

Instead Asset Match, which the pair founded in 2012, offers a controlled online marketplace that allows investors in established private companies to sell their shares to registered investors. Sales are made via daily, weekly, monthly or quarterly auctions, rather than continuous trading. This allows existing shareholders and their businesses more control over the process and prevents the management team from being too focused on their short-term market cap.

Baillie says that, unlike a public listing, the costs are carried mainly by investors rather than the company itself. He suggests the total cost of an AIM listing is in the region of £200,000-£300,000 per year, whereas using Asset Match costs the company £6,000 per year, plus a £1,500 application fee. Buyers and sellers pick up a trading levy of 3%.
While the platform is governed by FCA regulations, selling shares in this way does not involve the same extensive levels of reporting and regulation that come with floating.

'What we're providing is a much more flexible alternative where those who want to stay with the business and continue the ride can, and those who want to exit can do that,' Baillie adds.

The platform has clearly piqued the interest of investors, who ploughed £300,000 into Asset Match last year through crowdfunding site Crowdcube. There are currently 23 businesses listed on the site but Baillie and Lucas hope they will number in the hundreds within the next few years. Though this kind of offering may never herald the same fanfare and publicity as an IPO, it certainly looks like it could be a useful option for businesses who need to offer investors liquidity without the bundles of red tape and long hours of investor relations that come with a public listing.