Aston Martin roars off with £150m investment
James Bond's luxury car brand of choice is about to get a £150m cash injection thanks to an investment from Investindustrial.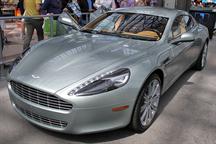 European buyout group Investindustrial has agreed to pay £150m for a 37.5% share of Aston Martin Lagonda, giving the struggling luxury UK brand a welcome shot of cash.
The manufacturer, which is based in Gaydon, revealed the deal after India's Mahindra & Mahindra withdrew its bid for the stake. Aston Martin wants to use the new cash to subsidise its plans for £500m worth of investment in new products and technology between now and 2017.
It also desperately needs the cash just to stay afloat. In the year to the end of September, the firm sold just 2,250 cars, which was 20% fewer than a year earlier, and almost a third of pre-recession sales. They were in the order 7,000 cars per year. Revenue this year fell 19% to £305m. So, yes, the cash injection is very welcome indeed.