Aston Martin shaken, but Motorpoint not stirred
Grim news from Aston Martin, as 600 jobs are cut. But not everyone in the car industry is struggling...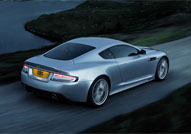 Aston Martin, the carmaker famous for its association with James Bond, said today that it would lay off about one-third of its workforce – about 600 people – as it struggles to cope with falling demand. The luxury marque, which came back into British hands last year after Prodrive bought it from Ford (with a little help from the Kuwaitis), has actually had a relatively good couple of years. But as jobs are cut and bonuses slashed in the City (with similar tales of woe elsewhere), it's no surprise that fewer people are willing to stump up £80,000 for a new set of wheels…
In the last two years, boosted by some good product placement in the recent Bond films, Aston Martin's sales have been pretty encouraging – last year it sold a company record 7,300 cars, and even this year it shouldn't be too far behind that. But clearly its order book is looking pretty thin for 2009, since the carmaker is now talking to unions about scaling back its production. Given its small scale and high-end offering, it was always going to be vulnerable to an economic slowdown – and so it seems to be proving.
Of course it's not exactly the only carmaker struggling. At the premium end of the market, Bentley also announced plans to shut its production line for a month over Christmas in response to falling sales. But the problem is bigger than that: just look at the ongoing woes of Ford and General Motors across the pond, who are haemorrhaging money fast and might even go bust unless they can persuade the government to bail them out (as they surely will). Indeed, the only reason Ford flogged Aston Martin was to raise some cash – reports today suggest it's now trying to do the same thing with Volvo.