Au revoir: French finance minister says ArcelorMittal no longer welcome
The country's finance minister Arnaud Montebourg has accused steel giant ArcelorMittal of 'not respecting France' and said the firm is no longer welcome.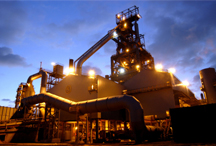 The French finance minister has told a French newspaper: 'We do not want Mittal in France any longer because they do not respect France. Mittal's lies since 2006 are damning.'
The minister said that the steel giant 'has never honoured its commitments' in France, after it closed down its last operating blast furnaces in the eastern France region of Florange. The firm wants to keep certain other operations in the area, but has ended up in a bitter row with the Socialist government.
Tempers have flared because the original Mittal firm bought out the French state-owned Arcelor – which essentially made Mittal in Europe – only to close down the French operation a mere six years later.