Aurelius bails out of Co-Op Bank ahead of crucial vote
Aurelius Capital Management, the hedge fund instrumental in forcing the Co-Op Bank's recent restructuring, has sold its bonds at a hefty profit.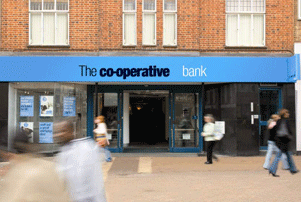 The sale – to another hedgie, London-based Perry Capital – came only days ahead of the crucial vote by Co-Op Bank bondholders, who must approve the deal to plug a £1.5bn hole in its balance sheet. A deal which will see the Co-Op Group left holding a mere 30% of the equity in the bank it used to own outright.

Regardless of what happens to the bank now, Aurelius, which bought the bonds after they were downgraded to junk back in May, will have cleared a tasty profit on the transaction. So all those people who believe that, as Unilever boss Paul Polman famously opined at Davos a couple of years ago, that hedge funds 'would sell their own grandmothers for a quick profit' may feel vindicated today.

Polman may have a point, but in this case, you can hardly blame Aurelius. Since the antics of 'Crystal Methodist' Paul Flowers became so explosively public, the Co-Op Bank brand has been looking increasingly toxic. Indeed it has just confirmed that it is losing current account customers at an (un)healthy clip, as punters sceptical that its 'ethical' policies can be maintained take their money elsewhere.

Add that grievous brand damage to the uncertainty created by the bondholder vote and Aurelius's quick turn starts to look like a pretty smart move. The biggest unknown as far as the vote is concerned (the deadline for which is 4.30 this afternoon) is what the 170,000 Co-Op members will do. These are private individuals, remember, rather than financial institutions – nothing is more likely to scare the horses in the Square Mile than having to give Joe Public a say in the outcome of such a big deal.

The other hedge funds in the LT2 group of bondholders seem to be standing firm so far but even so it is increasingly hard to be optimistic about the future of the Co-Op Bank. Whatever happens, it is going to end up paying a very high price for failing so publicly to stick to its advertised principles.