Published: 16 May 2019
Last Updated: 16 May 2019
From Margaret Thatcher to Kate Middleton, British women have always embraced the handbag – the market is worth over £1.3bn here and, according to one survey, the average woman in the UK owns 14 of them, and buys three new ones every year. Not a bad business to be in, then.
But keeping it all sewn up in handbags isn't quite as simple as those figures might suggest. It's a fickle and highly competitive market, with everything from market stall cheapies for a tenner a throw at one end, to ultra-premium 'investment' bags from Chanel and Hermès for up to £10,000 each at the other.
The key to success in such a crowded and fast-moving space is knowing who your customer is, says Justin Stead, CEO of London bag designer Radley & Co. "Many of our competitors are trying to chase the 18- to 27-year-old. That's not us. We have a mature audience of 40 to 65: she knows who she is, she has a strong sense of herself and wants great products and great value. She is not fashion-led but she does want to look great and be relevant."
It's equally important to know what your brand stands for, and what distinguishes it from its closest rivals, he adds. "We're affordable luxury, but we're trying to be everything that Michael Kors, for example, isn't. Kors is high fashion, with a younger audience – we're the opposite. We are authentic, we don't try to meet every trend, we want a brand that is consistent, offers great quality and value and that people can trust."
Winning business
Designed in the UK and made in India, Radley's bags – which sell for between £60 and £250 – are known for their distinctive mascot in the shape of a Scottish terrier. That's fitting as, admits Stead, when he and his private equity investment partners, Freshstream, took over the business in 2016, it was a bit of a dog's breakfast. A botched expansion plan had left it with too many stores, piecemeal international operations and confused marketing. "It was underperforming and financially distressed. The customers and market were there but it was being mismanaged."
But Stead says he could sense a winning business. "Radley is a treasured British brand and we have an incredibly loyal audience here. When we were first looking at the business, the thing that resonated with me was an industry report which said that Radley was the number-one trusted ladies handbag brand in the UK. Trust is one of the most important things you can have – when I saw that attribute I knew Radley was a great opportunity."
Stead is a luxury brands boss who cut his teeth at US watch business Fossil before coming to the UK to rescue another struggling group, Aurum [owner of jewellers Mappin & Webb, Watches of Switzerland and Goldsmiths], where he learned to love an underdog. As an entrepreneur, he says, he likes turnarounds.
For Radley that meant simple – if fairly drastic – action. "The problems were internal and fixable. It was a jack of all trades but doing nothing well. We scaled it back so as not to be distracted, and reorganised based on a new strategy and with a restructured team."
It was just in time to save Radley from the high street turmoil that has engulfed so many other retailers since.
Having started out as the brainchild of architect-turned-designer Lowell Harder, J who began selling boho leather bags on a stall in Camden market, Radley had become a fully-fledged retailer by 1998 and went on to have a UK-wide network of stores. But changing shopping habits turned many of those high street assets into liabilities. "Everyone is digitally savvy these days, there is a big transition going on. Customers go for a day's shopping, see an item, take a photograph but then go home and buy it online."
The trend for so-called 'omni-channel' shopping has called for a major rethink on Radley's shops, where the emphasis now is on showcasing the product in a glitzy environment as much as making on-the-spot sales. "When we took over we had 20 full-price stores. By the end of the next 12 months we'll be down to 10. But those 10 will be beautiful," he says.
The remaining outlets will also be increasingly high-tech, with Apple Store-style roving sales staff and tablet computers for ordering. "It's about providing the best customer experience. In our Birmingham pilot store, close to 15 to 20 per cent of business is now through customers looking at an item, but buying off the tablet with a sales associate, for delivery at home or for collection on another day."
So is the high street dead? No, says Stead, but it is changing faster than many can cope with. "Maybe 10 years ago you could have had 50 Radley stores around the UK. In my estimation that's over, at least in the short term."
Radley also has partnerships with department store retailers such as House of Fraser, which Mike Ashley's Sports Direct bought out of administration, and Debenhams, in which Sports Direct has a nearly 30 per cent share. Stead has seen both of their problems at close hand but is a fan of Ashley's approach at the former in particular. "We do a lot of business with House of Fraser and frankly I have been incredibly impressed. Mike and his team are easy to work with and straightforward, they are good retailers and think carefully about what they do."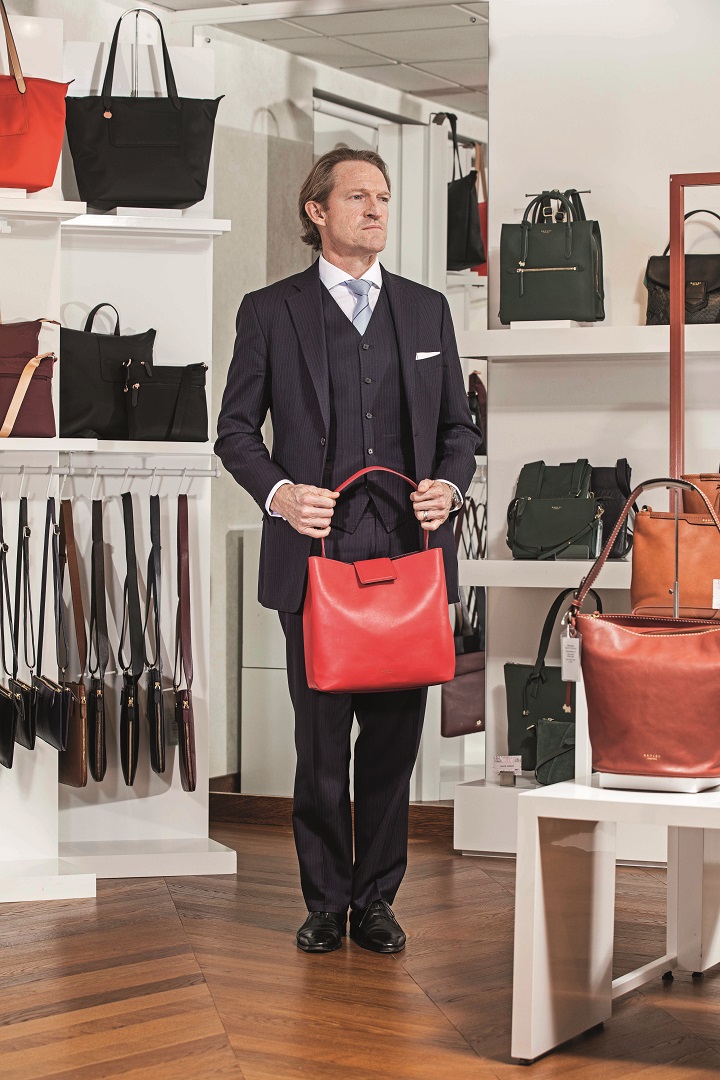 Stead's less-is-more ethos is being applied to international sales too, with the old 'disorganised' approach replaced by a focused effort on the two biggest luxury brand markets – the US and China. It's paying dividends. "In 18 months we've gone from zero to $40m of retail. I was in New York recently presenting four new ranges and they were hugely well-received. People there love British design and the stories that come out of London, but at our price point there was still no great London story – until now."
Chinese customers love British design too, but shopping there is almost exclusively online and mobile-first. It's been an eye-opening experience for Stead and his 130-strong head office team. "You don't have to be in bricks and mortar. We launched on TMall [Chinese retail giant Alibaba's business-to-consumer web platform] in November 2017 and it's exceeded all our expectations."
The Chinese dragon may look scary to many businesses, but it is worth pursuing, believes Stead – Alibaba's 11:11 shopping event takes place on 11 November (hence the name), and last year generated an eye-popping $31bn in sales. Radley's share of that may have been tiny in overall terms, but it was significant for the business nonetheless. "I was so amazed at the numbers we were doing that I went out to Shanghai to the Alibaba HQ to see for myself. It's an incredible campus with a very dedicated workforce."
Sales are not the only thing going digital either; Radley's marketing is increasingly virtual. "We're heavily focused on creating digital content to stream though all channels – Facebook, Twitter, Instagram. We're on a mission to elevate awareness of the Scottie Dog by telling great stories from London."
Rather than being driven solely by the four big seasons of the traditional fashion year, digital-first marketing presents the opportunity to put the brand in front of customers much more frequently, he says. "We're now telling stories about Radley probably 40 times a year – stories about the product, about successful women, about events like Chinese New Year and Mother's Day. And it's all digitally focused."
To that end Stead is busy signing up brand ambassadors to front campaigns, starting with Poldark's Eleanor Tomlinson, who features in a series of short videos themed on journeys in a London taxi, sharing the screen with – what else – a Scottie. "She represents all the values we want to associate with our business: she is grounded, accessible and very good at her craft." And happily, as it turns out, a dog-lover too.
"Do I want to have Radley showcased by a young girl on a yacht in the Med?" Stead continues. "That's just not us."
Lasting influence
But what about the bags themselves? Isn't there a danger that all this marketing glitz will come at the expense of product quality? Other brands may fall foul but Stead is confident that won't happen at Radley. "The feedback we get, especially in the US, is that people cannot believe the quality and the price/value relationship. Our leathers are beautiful and our main supply partner has been with the business for 21 years. They are based in Kolkata, we trust them and their sourcing is fantastic."
Lean, tanned and energetic, it's no surprise to learn that Australian-born Stead had a crack at being a sportsman when younger. "I was an aspiring professional tennis player: I went to the US to play for Oklahoma State University."
But despite being a top 10 player in the NCAA college tennis league, he realised that he wasn't going to make it to the top of the professional game. "Former Wimbledon champion Pat Cash is a good friend. He was the greatest in his sport for a time, but my assessment was that wasn't going to happen for me." So he packed away his rackets and took a corporate job: "I wanted the chance to be world-class at what I was doing."
He wound up at Fossil, where the top of the ladder did not elude him. After a decade he was running the global watch and jewellery business, but becoming tired of the results treadmill at a listed company. "Every 90 days you're under the gun. If you miss a quarter, stock prices can be hammered unjustifiably. I wanted to work with businesses that were private-equity owned."
Thus began a fruitful association with British retail entrepreneur Don McCarthy, who persuaded Stead to cross the Atlantic in 2007 to run Aurum. McCarthy – who died last year – was a big influence. "He taught me many things, including that enthusiasm can cost you money. As an Australian who lived in the USA for 20 years, my glass is more overflowing than half full. Don taught me to be a bit more cautious and to see the downside as well as the vision."
A keen student of ancient history, Stead reckons that there are lessons to be learned from the Roman Empire. "What does the world need? More ethical leadership and an understanding that the greater good must be served. My favourite emperor is Marcus Aurelius, because he was a stoic and greatly concerned with that. Whereas we as a society have lost sight of the greater good, and listen to the two per cent who rattle the cages of the other 98 per cent."
So while an exit from Radley is on the cards at some as-yet-unspecified point, his aim is to leave the business in better shape than he found it. "When I left Fossil, the business went onto great things. After I left Aurum, that business went onto huge things. I think we're looking at the same proposition with Radley."
Images: Richard Cannon