Austerity has damaged UK economic growth, says OBR
The government's public spending cuts have hurt economic growth more than we originally thought, according to the Office for Budget Responsibility.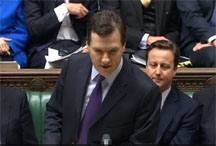 Been wondering why the upturn just doesn't seem to be coming around? Well the government's independent economic forecasting body, the OBR, reckons it's because of the austerity measures of the last two years. In its Forecast Evaluation Report (FER), it claimed: 'Fiscal consolidation may have done more to slow growth than we assumed.' The report also said that 'we significantly overestimate economic growth for the past two years.' So not only is the recovery being cut off, but also the readings we do have were false. Excellent.
So why has the OBR's economic reporting been out of kilter with reality? Its explanation blames the following:
The effect of contracting exports on net trade
The continued credit squeeze
The impact of inflation on real consumer spending
The effect of uncertainty on how much firm's are willing to invest
They all sound like fair reasons, but surely the OBR should have predicted the warping effects of these factors, no? These have been very real challenges for five long years – you'd think the OBR might have caught on by now.