Author Q&A: Scott Adams, How to fail at almost everything and still win big
World-famous cartoonist Scott Adams, creator of Dilbert, on being a "serial failure" and why goals are for losers.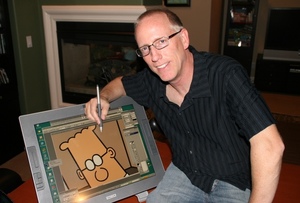 How to fail at almost everything and still win big
Scott Adams
Portfolio Penguin, £14.99
What inspired you to write "How to fail at almost everything and still win big"?
I grew up in a very small town and didn't have access to a credible mentor who could show me any shortcuts or tips for success. I had to figure it out by trial and error. After Dilbert hit big, people started asking for my secrets on success. It made me wonder if I could bottle my experience in book form.

I don't believe in giving advice because every situation and every person is different, and the advice-giver rarely has complete information. But I do think it helps to expose yourself to a variety of success stories and observations so you can look for patterns and systems that might work for you. I wrote How to Fail for the person who has the desire to succeed and is looking for some ideas on how to get there.
Who did you write the book for?
I think young adults need this type of material the most to get them started in the right direction, but experienced folks will understand it at a deeper level. And I think some people will enjoy reading it just to learn of all the embarrassing ways I failed until Dilbert took off.
The Dilbert comic strip is enjoyed daily by 150 million people in 2,000 newspapers, in 65 countries. Would you be as comfortable with failure if you hadn't enjoyed that kind of success?
I was comfortable with failure long before Dilbert worked, so apparently I deal with failure well. And I choose my ventures so that no matter what happens with them, I come out with new skills. I want my market value to increase no matter how well things are going at the moment. My system involves moving from a game with low odds to a game with better odds and making myself a more attractive target for luck to find me. When you feel yourself becoming more valuable it doesn't feel like losing, even if the details of the situation argue otherwise.