Autonomy's Lynch heads Britain's Top 100 Entrepreneurs
Autonomy boss Dr Mike Lynch leads the way in MT's annual celebration of Britain's biggest wealth-creators.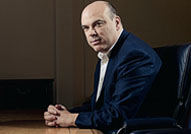 It's that time of year again: MT's prestigious annual list of Britain's Top 100 Entrepreneurs. This year's roll of honour (our sixth) is headed by Dr Mike Lynch, the boss of Cambridge-based software group Autonomy, who along with many of our Top 100 managed to boost profits this year despite the deteriorating economic conditions. Overall, the Top 100 have seen their average turnover almost triple to £19.1m, while their total headcount has increased to nearly 90,000 during the same period - encouraging figures as the UK looks to pull itself out of recession.
Our annual celebration of Britain's biggest wealth-creators is compiled by Philip Beresford, a former MT editor and the man behind the Sunday Times Rich List. The UK's finest entrepreneurs have been classified according to three criteria: their personal asset wealth; their percentage turnover growth in the last five years, and their percentage headcount growth during the same period (plus a series of tests to ensure a good geographic spread, gender split and so on). And overall, their success in growing headcount and turnover makes encouraging reading, according to Beresford: 'Their resilience offers the hope to those joining the dole queue that flourishing businesses will one day be able to take them into employment. They are an inspiration for those trying to start up a business in these dark days,' he says.
It's certainly been a good year for Autonomy, with profits up 80% in the second quarter of 2008. Lynch's software, which helps companies organise 'unstructured data', continues to go down a storm on both sides of the Atlantic (it even had the dubious honour of spotting rogue trader Jerome Kerviel's dodgy dealings at Societe Generale). Elsewhere, industrial firms are also strongly represented, accounting for 40 of the top 100 - hi-tech manufacturing continues to be an area in which Britain excels. And the number of Asian entrepreneurs is also up again.