Autumn Statement: No rabbits in Osborne's hat
The chancellor George Osborne today announced a set of new investments in infrastructure as well as a further reduction in corporation tax.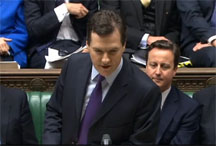 Pressure for the Chancellor to come up with some ideas for how to kick start the economy has been growing in recent months, not least because the government recently admitted that its austerity drive will have to continue into the next parliament. But in today's Autumn Statement, Osborne managed to pull some plans out of the bag that the business community probably won't sniff at.
The headliner point was that corporation tax will be cut by a further 1% to 21% from April 2014, meaning the UK will have the lowest rate of corporation tax in the G8, and, according to Osborne, 'lower than any other major economy'. And as if to try and shove a dummy in the naysayers' mouths, he iterated that banks would not simply be able to sweep up the tax saving, as their levy will be increased at the same time.
It probably hasn't escaped anyone's notice that public outcry surrounding the little or no corporation tax paid by several foreign companies (Amazon, Starbucks, Google et al) is at fever pitch. Osborne responded to this explaining that 'hundreds of tax loopholes are closed with immediate effect' (whatever that means), and that £77m of extra funding has been directed to HMRC to help it chase down corporate tax avoiders. He reckons that tightening up on dodgy accounting methods will help raise an extra £2bn a year from foreign corporations. Furthermore, he revealed that a treaty has just been signed to repatriate £5bn worth of cash that had been off-shored by companies in Switzerland – the largest tax evasion settlement in British history.