Aux armes, citoyens!
President Sarkozy is to save French firms from 'foreign predators', with a new strategic fund.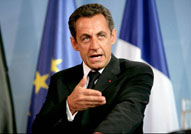 France's existing sovereign wealth fund, known as the Caisse des Dépôts et Consignations, is to operate the new fund, but would be 'more active, more offensive, more mobile,' a bit like the hyperactive monsieur le president, some might say.
The fear that France is shifting towards an even more protectionist position does not come as much of a shock to those who have been tracking French business fortunes over the past couple of years. The idea that a government could step in to halt the sale of a yoghurt maker (Danone) to a US congolomerate (Pepsi) on the grounds that the business was deemed vital to the country's national interest, is indicative of the Gallic approach.
A 2005 survey of French attitudes towards their country revealed that 60% believed capitalism was bad and 69% supported a policy of patriotisme économique. It's hard to imagine that recent events will have restored faith in the global markets. It would seem then that Sarkozy, by defending his country's business assets, is doing as he is told. 'I will not be the French president who wakes up in six months' time to see that French industrial groups have passed into other hands,' he told a group of business leaders in the Alps.