Average FTSE 100 CEO is 53-year-old male accountant
More than half of CEOs in the FTSE 100 started their career in finance, research from recruitment firm Robert Half finds.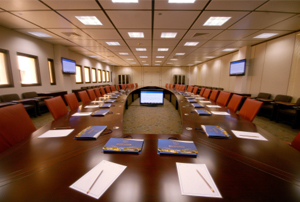 Since the start of the economic downturn, number-crunching expertise has become the skill most likely to get you into the top position at Britain's leading firms, research suggests.

More than half (52%) of current chief executives in the FTSE 100 have a background in accountancy or financial management, according to the annual FTSE 100 CEO Tracker from recruitment firm Robert Half. That compares to 31% in 2008, before the global credit crunch took hold.

In the last year alone, 10 of the 18 new FTSE 100 chief executives appointed have finance credentials.

'The risk and regulation agenda is driving demand for those with finance skills who can oversee all operational reporting groups within a business,' said Phil Sheridan, Robert Half's UK managing director.

At some distance behind, 21% of FTSE 100 CEOs have a background in engineering or natural resources, 9% in retail or hospitality, 8% in marketing or advertising and 4% in technology.

The number of female chief executives has also fallen in the last year, with just three women in the top position of companies in the FTSE 100 index.

The FTSE 100 lost two women CEOs last year after Dame Majorie Scardino stepped down from publishing giant Pearson, and Cynthia Carroll quit the miner Anglo American. That left just Imperial Tobacco boss Alison Cooper and Burberry's Angela Ahrendts as the only two female leaders. EasyJet's Carolyn McCall became the third after the budget airline was promoted into the FTSE 100 in March.
Want to hear about the easyJet boss's rise to the top? Carolyn McCall will be the keynote speaker at MT's Inspiring Women conference. Find out more here.