Can we avert another financial crisis?
The Only Game in Town's arguments on how to avoid another global economic collapse make sense, but the political will is not there.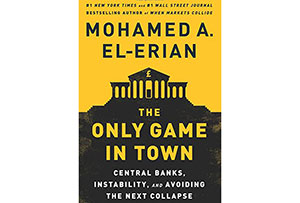 At a time when all attention in the UK is focused on our 23 June 'Date With Destiny', it is tempting to view any contribution to the public policy debate through that prism. To suggest that The Only Game in Town is about Brexit would be misleading, but in discussing the changes needed in Europe to correct the flaws in economic and monetary union, and to revive growth in the stagnating southern half of the continent, El-Erian does refer to the debate underway here.
He argues that the Eurozone, on the one hand, and the UK on the other, are on very different tracks. He sees politicians in the former as being 'on a journey to complete integration'. If so, they are taking a long and winding road, but in the very long term he may be right. Where he is certainly on the money is in noting that the UK 'is focused much more on the EU as a free-trade area'. And his argument is that this is an unsustainable dichotomy: 'reconciling these two visions for Europe needs to happen if the region is to deliver more of its promised outcomes'.
I fear I will be in my twilight home, and possibly well beyond it, before any such reconciliation takes place. My point, though, is not to address that argument directly, but rather to illustrate that the degree of political change that he thinks is needed to avert the next collapse is very great indeed. In Europe, his list includes fiscal and political integration, which would involve a complex and fundamental treaty change, and debt forgiveness for Greece, which would be, to put it mildly, a hard sell in Germany.