Averting a fire, with YouTube
With the BBC getting burned by the Ross-Brand blaze, some tips on preventing reputational damage.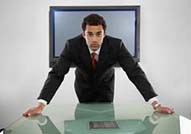 Employ the right representatives in the first place. If you're after an employee who won't upset the apple cart, perhaps Russell Brand shouldn't top the list. And if you're not sure they're right, try them out. According to the Onion, Barack Obama has been well drilled by his presidential internship.
Set clear rules. The Beeb is now realising the perils of letting comedians run wild with their phone book without knowing the line. The company in the Hudsucker Proxy probably takes things too far - indeed, it's hardly an enlightened workplace - but it's hard to imagine Tim Robbins' new arrival having time to cause trouble.

Put your foot down. Alan Partridge's chat show series ended with him shooting a man dead on live TV. Soon he's working as host at a village fete, griping about the head of the BBC. A couple of points to consider: is the issue as serious as it's made out to be, and is this the right person to blame? If so, act.

In today's bulletin:
Barclays banking on Middle East cash
BT phone home
Reckitt boss slams Tesco payment terms
MT's Week in 60 Seconds
Averting a fire, with YouTube