AWS: Can the cloud make Amazon the world's biggest company?
Jeff Bezos's 'other business' is growing at a ferocious pace - and it makes a profit. Watch out world.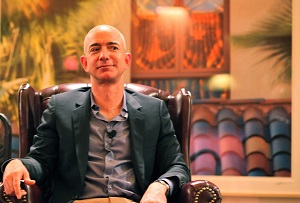 Amazon is the Terminator of disruptors. One of the early names Jeff Bezos considered for his business was relentless.com, which says all you need to know about its ethos. For 20 years, Amazon has pursued retail market share with ruthless efficiency and unwavering determination, transforming it from a novelty bookseller into one of the biggest companies in the world.
Yet in Bezos's world, one of the biggest won't cut it. Amazon's mission is to be the biggest, the best. It's got a way to go on that front. By market cap ($314bn, or £221bn), it's just about in the top ten. By revenues ($107bn in 2015, $29bn in the first quarter of 2016), it's somewhere between 50 and 70. Both of these are rising fast. But on one key measure, it's nowhere close.
Profitability is the conveniently located mechanical press to Amazon's Terminator. It's the ultimate high volume, low margin business, which means the vast returns seen by the likes of Apple ($39bn last year) are a world away. In 2015, Amazon made only $596m – its biggest profit for years.