B&B coy on the Rock
Northern Rock shares actually climbed today, after reports that Bradford & Bingley was interested in taking a stake - even though the building society has been busy playing down its interest.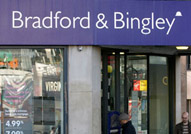 The BBC reported yesterday that B&B had approached Northern Rock a few weeks ago about taking a stake as part of a private sector rescue package, sending the Rock's share price up 5% - something that hasn't happened much lately.
However, B&B has been pouring cold water on investors' ardour this morning by apparently denying the reports. According to reports, its spokeswoman said: 'We are not actively pursuing a bid for any part of Northern Rock at this time,' although she admitted that B&B had been 'one of several parties' to get a copy of the Rock's sales memorandum when it went on the block.
Nobody seems quite sure how such a carve-up would work, either. If Virgin or Olivant do manage to get a Rock deal off the ground, it seems unlikely they'll want to sell a bit to B&B. And with the Treasury now guaranteeing most of the Rock's liabilities (to the tune of £56bn of taxpayers' money, apparently), it's not clear how they'd be able to chop out a slice to sell to a private bidder.