BA bruiser Walsh picks fight with unions over job cuts
BA's unilateral 1,700 job cuts haven't gone down well with unions. Now a Christmas strike looms...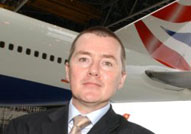 BA has just picked a major fight with its unions: last night, the airline unilaterally announced 1,700 job cuts, plus a two-year freeze in all pay and changes to working conditions. Having spent the last year negotiating over all this without much success, it's apparently decided to force the issue – and Unite is already threatening strike action as a result. But boss Willie Walsh argues that when you're losing as much money as BA currently is, drastic measures like these are unavoidable…

Apparently 1,000 BA cabin crew have taken voluntary redundancy, while another 3,000 have offered to work part-time, adding the equivalent of another 700 to the total. This is going to require changes to the way BA operates: notably, its long-haul 747 flights out of Heathrow will be staffed by 14 cabin crew rather than 15 (although passengers may not notice the difference, since the senior cabin crew member - the grandly-named customer services director - will have to suffer the indignity of actually serving passengers rather than directing operations from a comfy chair). BA also said there'd be a two-year pay freeze across the board.

None of this might sound very controversial, but the provocative bit is that it announced all this stuff without bothering to tell its main union Unite. Although you can see why Walsh might want to force the issue if talks have stalled, that's a guaranteed way of getting on the wrong side of both the union and employees. Unite is already making noises about an industrial ballot, and given the likely process involved, any strike would probably be around Christmas time. Which won't help holiday season bookings…

One of the biggest bones of contention is just how bad a state BA is in. The unions argue that the airline is through the worst, so Walsh is just using this as an excuse to slash and burn. But the CEO reckons BA is just 'bumping along the bottom' – things may have improved a bit, but passenger numbers are still down, and fuel prices are climbing again. Given that BA lost an eye-watering £400m last year and another £148m in the first quarter (for the first time in its history, it's set to lose money two years in a row), you can see his point. And his alma mater Aer Lingus would certainly agree: it's just announced plans to shed 800 jobs, about a sixth of its workforce.

Unite bemoans the fact that Walsh wants to introduce 'easyJet levels of pay', but it hardly seems that outlandish for him to want to pay his staff at the same level as his competitors. BA needs to cut its wage bill to survive, however painful the process. Then again, Walsh has to be careful - if this process ends up dragging down service levels and alienating passengers, BA will end up in even more trouble that it is now.

In today's bulletin:
BA bruiser Walsh picks fight with unions over job cuts
Amazon Kindle is coming to Britain
Sainsbury sounds cautious note as sales growth slows
Honesty is the worst policy for financial results
Route to the top: Six ways to swallow your pride