BA facing strike action - as Lufthansa suffers
Unite is set to announce its BA cabin crew strike poll results. And all the dials are pointing to action.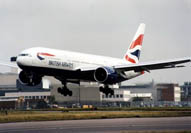 The result of the poll by British Airways' trade union are due today, with the airline bracing itself to discover whether it's facing a walkout by more than 12,000 members of its cabin staff. And judging by early indications from an online poll by Bassa, Unite's cabin crew branch, BA officials can expect a kick to the undercarriage: more than 3,600 Bassa members voted in the poll (about a third of BA's entire cabin crew workforce) and two-thirds of those want a strike lasting at least 10 days.

It's not great news for BA, even if it's grown used to turbulence these days. The carrier faced a 12-day Christmas strike last year, before it was blocked by legal action. Unite's joint general secretary Derek Simpson has since suggested that a 12-day walkout was 'probably over the top' - but a 10-day strike this time round might well get Bassa members on board.

It's also rotten news for the thousands of passengers whose travel plans will be disrupted by the action - although BA has been busy training volunteer cabin crew to staff flights, including pilots. So fliers shouldn't be alarmed to see L-plates on the 747 if they do finally get on it.

At least the airline can claim the moral high altitude in this dog-fight: last week the high court ruled that BA didn't breach cabin crew contracts when it cut staff levels last year. Given this was the very issue that sparked the Unite dispute in the first place, BA is urging it to take the court's ruling as a sign it should back down.

That may be unlikely. But at least this wrangle with Unite may distract BA from the woes that rival Lufthansa is currently enduring: the German carrier has just had to cancel 3,000 flights, as it suffers a four-day strike at the hands of 4,000 pilots - apparently they're worried the airline will try to cut staff costs by shifting jobs to its foreign subsidiaries, where wages are lower. That wouldn't be difficult: its cockpit salaries go from €62k to a vertiginous €325k. All in all, Lufthansa reckons the action will cost it €25m a day.

And for a final stop-over in our air sickness-inducing tour, we flip over to BAA. The airport operator has been left reeling by losses of £821.9m for 2009, largely thanks to having to offload Gatwick. That's a huge jump from the £324.2m it lost in 2008. Just like BA and Lufthansa, BAA must surely be hoping for a smoother flight for the rest of this year.

In today's bulletin:
Brown bullying row a bad example to senior leaders
BA expecting flak to strike - as Lufthansa suffers
Mike Ashley wades in to block Blacks restructuring plan
Primark shifting gear - and Fairtrade also picking up
MT Expert's Ten Top Tips: Supercharge your energy levels