BA falls as turkeys vote for Christmas strike
BA's share price slumps as staff back a Christmas walk-out. Mess with our holiday plans at your peril...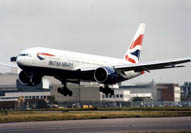 Double trouble for BA: the airline's share price plunged to its lowest level in months this morning, after more bad news on its pension deficit, and the decision by cabin crew to strike for 12 days over the festive period. If it goes ahead, the strike (which would run from December 22 to January 2) could affect up to 1m passengers and potentially cost BA up to £300m. It's a brave move by BA staff, to say the least: ruining lots of people's Christmas holiday is hardly a great way to attract public support. And with plenty of alternative carriers itching to pick up the pieces, we can't help feeling that they're shooting themselves in the foot here…

BA staff voted 9 to 1 in favour of strike action yesterday, in protest against CEO Willie Walsh's cost-cutting plans – which include several thousand redundancies, cutting the number of staff on flights, freezing pay and changing their terms of employment. If they do carry out their threat, almost all of BA's fleet will be grounded, at one of the busiest times of its year. This would be a financial disaster in the short-term – some reckon it could cost the airline up to £300m. And the long-term implications would be equally damaging, if people decide that booking BA is just too much of a risk; rival airlines such as easyJet and bmi are already lining up to take advantage of what has been dubbed the ABBA (Anyone But BA) effect of the strike, which would make BA's turnaround even more difficult to achieve.

Walsh's argument is that the airline needs to make these staff changes if it wants to stay afloat (or should that be airborne?). The simple fact is that BA staff get paid more than everyone else in the industry – double the amount, in some cases. And yesterday's (handily timed) news on the pension deficit only emphasised its financial problems: now the deficit has ballooned from £2.1bn to £3.7bn, it won't be able to afford to honour its obligations to employees in the longer term (and since BA's planned merger with Iberia is dependent on this issue being sorted, this latest twist – although not wholly unexpected, according to Iberia – could throw a rather large spanner in the works).

If there was any general sympathy for the cabin crew's plight, we suspect it will dissipate pretty sharpish once BA starts downing planes and forcing people to cancel their Yuletide family reunions. And given the effect such a strike will have on BA's reputation – which will ultimately mean more financial problems and more redundancies – we can only hope that they decide to cut a deal and call off the strikes. Although by then the damage may have been already done...

In today's bulletin:
BA falls as turkeys vote for Christmas strike
Cadbury bid defence is a Fudge, says crotchety Kraft
Fuel pushes inflation to six-month high
Editor's blog: Painful changes at BA and Royal Mail
Is there trouble ahead for price comparison sites?