BA gets court to block Christmas strike
Good news for passengers: a judge agrees with BA that the planned 12-day strike is illegal.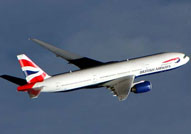 The High Court ruled this afternoon that the ballot carried out by the Unite union didn't conform with the rules, just as BA claimed - which means that the result won't stand and the strike can't go ahead (unless some other judge overturns the decision on appeal, of course). Since the strike was always a terrible idea in the first place - even some of BA's cabin crew have been having second thoughts following the public backlash, according to reports - it might seem like all's well that ends well. But although Christmas fliers look set to get their holiday break after all, it's not all over for BA - the incandescent unions are already planning round two...

Admittedly the rules around industrial ballots are incredibly (and probably unnecessarily) complex. But it wasn't as if Unite's approach fell down on a technicality: the judge accepted BA's claim that they'd balloted members who'd already accepted voluntary redundancy, which is, unsurprisingly, not allowed. So although they're furious about this ruling, calling it a 'disgraceful day for democracy' - 92.5% of its members backed the strike, remember - they can't really blame anyone but themselves. Besides, even some of those who voted in favour are now saying that they'd never have done so if they'd known the union would push for a 12-day strike over Christmas. So perhaps they weren't as fortright as they should have been.

Unite is already insisting that it will re-do the ballot, but the good news for passengers is that the Christmas strikes are definitely off (barring more legal chicanery). Even if the ballot is repeated, the law dictates that any industrial action couldn't take place until well into the new year. That's probably less damaging to BA than a Christmas strike.

Nonetheless, the threat of strike action at some unspecified time in the future is hardly ideal - it means that any passenger will think twice before booking with BA at any time in the next few months, until the issue is resolved one way or the other. BA may have fixed the immediate crisis, but it hasn't fixed the underlying problem. If anything this embarrassment might even strengthen the union's resolve to push a hard line. So BA still needs to get negotiating fast.

In today's bulletin:
Thank goodness for the Germans, as Bank bashes the City
'Snow chance' - angry banks block £1bn SME fund
BA gets court to block Christmas strike
Pink pound wobbles in the recession
Be careful about letting your hair down this Christmas