BA plunges to £148m loss - can Walsh stop the rot?
Things get worse at BA - it's posted its first Spring-quarter loss since privatisation in 1987.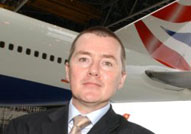 The three months to June are usually some of the most lucrative in the BA's calendar, what with the holiday season getting under way and all. But this year business has been pretty thin on the ground, with revenues down 12.2% to £1.98bn and a pre-tax loss of a whopping £148m.
Nonetheless, the fact revenues would have been even worse had it not been for a bit of help from the exchange rate, and that its operating loss of £94m for the period was marginally ahead of expectations, seems to have been enough for the market: BA shares are up 3% this morning. Just don't ask us to explain why.
Of course the firm is no stranger to hard times, and has been battered throughout the recession as transatlantic business class passengers – on which it relies for much of its income – have been in terminally short supply.