BA soars to record profit
More cost-cutting success at British Airways, which revealed a 26% increase in half-year profits this morning – despite the high-flying fuel prices.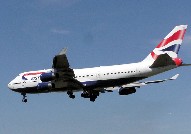 BA said profits hit a record £593m for the six months to September, up from £471m a year ago, largely thanks to executives spending more money on first-class and business flights. Like Unilever yesterday, the airline's cost-cutting measures are starting to bear fruit, with costs falling by 4% - despite its annual fuel bill being on course to top £2bn for the first time.
There were some other nuggets of good news in today's results too. Terminal 5, which will become BA's new home at Heathrow, is only 145 days away from opening. And the 36 new planes it has ordered from Airbus and Boeing should help it meet its target of improving fuel efficiency by 25% before 2025.
Even more excitingly for anyone who's tried to get on a plane in the UK recently, BA also said that the restrictions on hand baggage could be gone by Christmas. Recently passengers have been limited to one carry-on bag, which has led to longer delays in the check-in process.