BA soars but Walsh goes without
Despite record profits for BA last year, CEO Willie Walsh has sensibly decided to forego his bonus...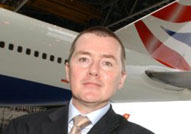 British Airways said this morning that it managed to rack up record profits of £883m in the year to March, on revenues of £8.1bn. Not only is this a 45% increase on the previous year, it also means that CEO Willie Walsh has finally hit his ambitious target of a 10% operating margin – making BA one of the world's most profitable airlines. Walsh called it an 'outstanding financial result', and given the spiralling fuel price and various other problems this year, he's got a point.
Of course it's hard to write anything about BA at the moment without mentioning the T5 debacle – and although its catastrophic opening came right at the end of this period (thus minimising its impact on the figures), it was still at the forefront of everyone's minds today. And apparently it's going to hit Walsh where it hurts – he said today that he would forego his annual bonus of about £700,000 because it would be 'inappropriate' in the circumstances.
Now you might argue that this is basically a self-serving gesture – if he'd decided to take the cash despite all the recent upheaval, it would have infuriated investors, attracted a storm of negative publicity and possibly re-ignited calls for his resignation (which seem to have died down slightly in recent weeks).