BA and Unite in talks to save Christmas
British Airways and Unite have agreed to meet. Perhaps Christmas won't be grounded after all...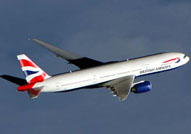 The airline and the union are scheduled to get around the table at 3pm today, to see if they can agree conditions to halt Unite's proposed 12-day strike. BA says it aims to avoid 'massive stress and disruption' for the million or so Christmas holiday passengers who'd be affected by the walkout of its cabin crews, who plan to down warm towels and drinks trolleys from 22 December to 2 January in protest at a proposed pay freeze and cull.
But while the tone has become marginally less belligerent, BA is still heading to the high court this afternoon - seeking an injunction on the basis that the union's strike ballot was flawed. While it was endorsed by an overwhelming 92% of its cabin crew after an 80% turnout, the carrier claims the ballot also counted votes by staff who had already taken voluntary redundancy. Which is hardly in the spirit of Christmas.