BAA: Behind the spin
Ferrovial's BAA is back in the news again today. This time it's the Competition Commission slamming the airport operator's record on queues at Heathrow and Gatwick this summer. BAA's PR people have an almighty task, as MT's Behind the Spin shows...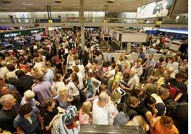 The dilemma
BAA's recent rough ride would bring out night-sweats in the toughest of board directors. To recap: the 'world's leading airport company', owner of Heathrow, Gatwick, Stansted and four other British airports, has been under attack: politicians, businesspeople, holidaymakers and climate-change protestors queued up to hurl insults (appalling service; killing the environment...). Then came the fallout. First to go was Heathrow CEO Tony Douglas, who said the airport was in some places 'held together by sticking plaster'. Corporate affairs director Duncan Bonfield and media relations chief Mark Mann quit a month later, claiming that a media lockdown imposed by BAA's Spanish owner Ferrovial had made their positions untenable. Could it get any worse? Yup. The Competition Commission is now investigating BAA's near-monopoly, and a forced break-up could be on the cards.
The spin
CEO Stephen Nelson said: 'BAA accepts that the experience of too many passengers using London airports is unsatisfactory. But the problems of congestion and delay which affect passengers have their roots in lack of terminal and runway capacity, not the ownership structure of BAA.' Heathrow was designed to handle 45 million passengers but last year it processed 67.4 million.
The straight talk
The British Airports Authority was set up in 1965 and privatised in '87. It was delisted last year when it was bought by a Ferrovial-led consortium in a highly leveraged £10.3bn deal, and many BAA senior execs quit. Tensions between Madrid and London were eased by the announcement that Ferrovial's chairman Rafael del Pino is to step down from the BAA board, to be replaced by Sir Nigel Rudd, who admits: 'This is the most challenging role I have ever undertaken.' He'll be joined on the board by ex-Met Police commissioner Lord Stevens, in an attempt to boost BAA's standing in business and media circles.