BAA facing double dose of turbulence
A bad week ahead for airport operator BAA - passengers down at Heathrow, and it's taking on the Competition Commission.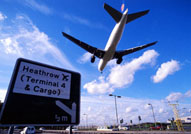 The Competition Commission ruling that Spanish-owned BAA is challenging is the one ordering it to dispose of three of its seven UK airports. You can see why chief exec Colin Matthews doesn't want to take that lying down – never mind the reduction in the size of his business, he's going to get a lousy price for big-ticket assets like that at the moment.
Now to make matters worse, an annual survey of passengers by the Civil Aviation Authority (CAA) has found that the number of business passengers using it flagship location, London's Heathrow, nosedived by 5% last year to 22.8 million. It never rains but it pours.