BAA forced to sell three of its biggest airports
A hammer blow for BAA, as the regulator says it will be forced to sell three of its four busiest airports...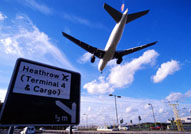 The Competition Commission said today that it plans to force BAA to sell not only Gatwick, but also Stansted and Edinburgh – which would mean the beleaguered BAA losing its three biggest airports outside Heathrow. The regulator reckons that greater competition between operators is the only way to ensure a decent service at UK airports, a sentiment that will probably ring true for frequent flyers. But understandably, BAA is rather upset that it could be forced to sell three of its best assets - particularly at a time when prices are plummeting...
The recommendation about selling Gatwick was hardly unexpected; the Commission suggested back in August that BAA would have to give up some of its seven airports, prompting the operator to put Gatwick up for sale. Various bidders, including Macquarie and Virgin Atlantic, are already lining up for a tilt at the airport – and with a valuation of nearly £2bn, a sale would free up some much-needed cash to help BAA pay down some of its vast debt pile. (Just a pity this didn't happen a couple of years ago, when asset values were going through the roof...)
However, BAA was hoping that it might be able to get away with selling just one of its London hubs. 'We do not believe that [the Commission] has set out compelling evidence to support its view that selling Stansted as well as Gatwick will increase competition,' the operator said in its response today, adding that a sale process would only delay the introduction of much-needed extra runway capacity. Unfortunately the regulator doesn't agree: it's decided that the three London airports have to be separately owned, or there'll be no incentive to improve service levels. Since the two airports handled about 60m passengers last year, that's rotten news for BAA.