Bad advice costs Barclays £7.7m
The FSA has fined Barclays a record £7.7m after it failed to inform customers of investment risks.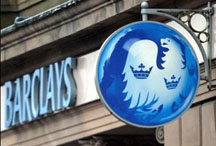 The latest in a long line of bank-related controversies sees Barclays getting the highest ever fine for failings in retail banking, and may leave it dishing out £60m to victims in compensation – because it didn't warn investors what they were getting into.

Between July 2006 and November 2008 Barclays flogged Aviva's Global Balanced Income Fund and Global Cautious Income Fund to 12,331 people, with investments totalling £692m. Many lost 40% to 50% in the process. Barclays apparently noticed the problem in June 2008, but opted to do nothing about it.
Barclays' own investigation found that 74% of sales of the Global Balanced Income fund required further consideration; the same for 51% of the Global Cautious Fund. Not surprisingly, the bank received complaints from a whopping 1,730 investors, understandably miffed that half their life's savings had gone down the pan. Many even went on to form a protest group, the Barclays Investment Victims Club, presumably not to sit around in a den, making badges, and playing games of pin the bonus on Bob Diamond.

Many of those customers are still waiting for compensation, which can't be a lot of fun. And while Barclays has already shelled out about £17m, the FSA reckons there may be another £42m to pay.

The regulator says that the bank made several mistakes: it didn't check to make sure the products were suitable for individual investors, and it failed to train staff or produce brochures to explain the risks. FSA standards state that banks are meant to have procedures to ensure the customers' financial circumstances, attitude to risk and aims all match the product being suggested, which seems fair enough. And so Barclays has been lumbered with yet more fiscal hassle. Still at least it's the one major bank that the government didn't have to get involved with bailing out in the crisis. For the taxpayer to be compensating themselves for lost investments would really be rubbing it in.

Of course, something would be awry if the banks weren't getting it in the neck. The Barclays strife comes as RBS chairman Sir Philip Hampton was saying that banking's 'journeymen players' were overpaid. Ok, he's hardly the first to say that, but when this year's total bonus pot for bankers is expected to amount to about £7 billion, it's worth noting when the chairman of a majority state-owned bank says that many in the business are overpaid.

Still, the Coalition government seems reluctant to give banks the hard time some people would like to see. The PM has insisted he cannot 'hammer' them over bonuses because the Government needs their tax revenues and businesses need their loans. Just as long as our Government and businesses don't ask for any investment advice…