Bad bosses driving away staff?
The CMI says there's a crisis of confidence in UK management, with 'accidental' bosses alienating staff...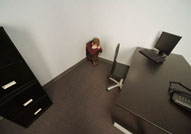 People leaving jobs due to bad managers; 50% of staff claiming that they could do a better job than their current boss; managers claiming they never wanted the job in the first place… New research by the Chartered Management Institute paints a pretty depressing picture of UK management today (as opposed to Management Today, you understand – which is very well, thanks for asking). The CMI reckons most managers lack the proper training and skills, and it's having a big impact on staff retention: in its survey of 3,000 people, almost half of the respondents said they'd left a job because of a bad manager. And if you're surprised this figure's not higher, we guess that proves the CMI's point...

One of the biggest problems, apparently, is 'accidental managers' – more than two-thirds say they've ended up in a managerial role by mistake, while two in five managers claim they don't really want the responsibility even now. This may be something to do with the fact that they don't feel their employer is giving them enough support: 63% have had no management training whatsoever, while a measly 28% have some kind of formal qualification. In other words, management seems to be one of the few professional skills that people are expected to grasp instinctively without any outside help.

All of this isn't just bad for the managers concerned; it's also bad for those under their charge. 47% of people said they'd left a job because of a bad manager, and 49% said they'd even be willing to take a pay cut if it meant working with a better manager. Since your boss is such an important component of how much you enjoy your job, this is perhaps no great surprise.

According to the CMI, all of this points to a crisis of confidence among UK managers. 'The sad truth is that UK managers are no longer regarded as professional, competent or accountable,' says its boss Ruth Spellman. Such is its concern that it's just launched a 'Manifesto (with a capital M) for a Better Managed Britain', in which it calls for all concerned – with the Government leading the way – to invest more time and money on developing managerial skills in the UK.
Any initiative that bolsters support structures for managers gets the thumbs-up from us. But are things really that bad? The recession has clearly put a lot of stresses and strains on UK plc, and inevitably, some managers have struggled to cope. Others are caught in the invidious position of having to do the dirty work of the top brass without any influence over the outcome - the worst of all possible worlds. Nonetheless, we like to think that there are plenty of very good British managers out there, fighting the good fight and keeping British companies afloat. Or is that just a rose-tinted view?

In today's bulletin:
Unemployment figures give hope for 2010 - or do they?
Sainsbury's Christmas cheer as customers taste the difference
Bad bosses driving away staff?
MT wins BSME award for fifth time in nine years
The Parent Project: Working with morning sickness