Another bad day at the post office
… and they're off. By now the latest strike action by postal workers will be under way, this time a 48-hour walkout that may disrupt deliveries as far ahead as late next week.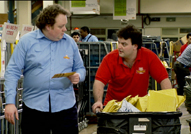 Looks like this writer picked the wrong day to start renting DVDs from Amazon. If this news wasn't bad enough, a second two-day strike by the Communication Workers Union's 130,000 members is scheduled to begin at three in the morning next Monday, followed by a programme of rolling strikes each Monday till the dispute is sorted out. Ouch. And this on the back of the action late last month by managerial staff at Royal Mail, prompted by fears over their pensions. The word 'beleaguered' leaps to mind.

The CWU action is an objection to the Royal Mail's 2.5% pay offer and modernisation plans, which it says will put about 40,000 jobs at risk. The organisation is defending its reforms, saying that the move is necessary if it is to survive in a liberalised mail market.
No one likes to see such formerly great public institutions going down the pan, and taking a load of jobs with them. Still, the union has had the organisation by the bits for years, with management hardly able to drive through any reforms, no matter how sensible. Royal Mail is one of the few workplaces where workers are still allowed to task and finish. Hence our editor is sick to the back teeth of red vans careening down his road in a cloud of spilt envelopes, in a bid to get the job done and get home. It's also hard to avoid the conclusion that such strike action is helping to speed Royal Mail's demise, leading as it may to further loss of business and worsening financial troubles.

Indeed, you know the firm is in trouble when it starts asking the public not to post letters. It may be a sensible way to prevent log jams, but ends up sounding as counter-intuitive as Apple pleading with people to 'stop downloading songs'.