Bad managers 'biggest cause' of work-related stress
NICE suggests poor line management is to blame for rising stress levels - and shrinking profits.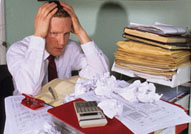 Managers need to do more to tackle stress in the workplace in order to improve the mental welfare of their staff, according to research from the National Institute of Health and Clinical Excellence – which will have the added benefit of cutting absenteeism and improving productivity levels. NICE says that almost 14m working days are lost each year due to work-related mental health conditions such as stress, depression and anxiety – at a total cost to UK plc of more than £28bn. NICE reckons that by following some basic guidelines, companies could save themselves an estimated £250,000. In which case it looks as though it's in everybody's best interests to sort this out...

Looking after employees' mental health might not always have been seen as a top priority, but the business case is very simple: happier staff equals increased productivity and lower levels of absenteeism, thus impacting positively on the bottom line. Indeed, NICE reckons that introducing simple steps like giving positive feedback, allowing flexible working and giving days off as a reward, could cut the impact of employee stress by a third. The NHS advisers also want line managers to help improve morale by geeing up their charges with words of support and encouragement (the odd 'thank you' wouldn't go amiss).

This advice is backed up by a study from recruitment firm Badenoch & Clark which found that 91% of employees are stressed at work - and worse still, seven in 10 are too scared to raise their concerns with their bosses. While line managers will probably argue that they can't afford to spend all day every day dealing with people issues, especially at the moment, it's probably self-defeating if they seem entirely unapproachable. 'By refusing to deal with a crucial employee engagement issue, businesses are risking not only the health of their workers, but the quality of the work they deliver and the overall morale of their organisation,' points out Badenoch & Clark boss Neil Wilson.
Recessions are clearly not much fun for anyone, so it's not really surprising that stress levels are on the rise - even the best managers in the world can't shield their staff entirely from the external pressures affecting every business at the moment. So (and admittedly we may not be wholly impartial in this matter) we can't help feeling that it's a bit harsh for NICE to suggest that bad managers are largely to blame. On the other hand, encouraging your staff with the odd word of praise and the occasional shoulder to cry on costs nothing - and it's not only good for their health, it's probably good for your business too.

In today's bulletin:
Bank of England to inject another £25bn of stimulus money
Respite for ITV as advertisers switch back to telly
Bad managers 'biggest cause' of work-related stress
A Traveller's Tales, MT's exclusive business travel blog
Sign up for our free MT breakfast debate - why bosses and IT types really need to talk more