Bad managers to blame for local government inefficiency?
A new report says helping managers utilise their staff better could spare the front line from cuts.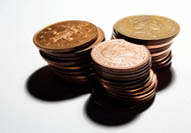 Public sector waste is high on the political agenda at the moment. So we were interested to see a new report by consultancy Knox D'Arcy, which argues that junior staff in local government tend to 'lose' about two-thirds of their day because they're not properly managed. Given the size (and cost) of this sector, that's a scary amount - and it's noticeably higher than the equivalent figure for the private sector.
But there is a silver lining, sort of: if these managers can be helped to do a better job of utilising their resources, it should be possible to save a lot of money without needing to cut front-line services. Music to the Coalition's ears...

Here's how the study worked: Knox D'Arcy followed a load of managers around from the private and local government sector, recording their minute-to-minute activity and assessing how well utilised their staff were. Unfortunately, the short answer was: not very. The private sector was hardly exemplary: these managers achieved staff utilisation rates of 44%, so they were productive less than half of their time. But the situation was even worse in local government, where staff were productive just 32% of the time. That means they're doing nothing two-thirds of the day.

So why the discrepancy? Well, apparently it's not a question of 'active management' (i.e. the level of breathing-down-neck-ness), because that was about the same in each sector. But Knox D'Arcy reckons that in the private sector there are more robust performance management systems - in other words, you get into more trouble if you fail to deliver.

The good news, of course, is that if local government could merely get its productivity up to the private sector average, that would mean a huge increase in output. And the systems to facilitate this clearly exist, because they're working in the private sector already (albeit to a limited extent - Britain is still lagging behind the top-performing countries in productivity terms). Improving efficiency would save money - which would reduce the need for the front-line cuts that everyone is currently fretting about.

And of course, the other side of the coin is that if the sector does have to resort to swingeing cuts, its managers don't seem very well equipped to deliver them. If they're finding it tough to make staff productive at the moment, how will they be able to deliver the same services with fewer resources?
In today's bulletin:

Asda and Tesco target Ocado - as online retail boom continues
Bad managers to blame for local government inefficiency?
Rise of hackers behind Intel's $8bn McAfee bid
Chrysalis sings the praises of ad royalties as profits jump
Small businesses bear the brunt of slowing bank lending