Bad managers are a real killer
A new study suggests that having a bad manager could seriously damage your health...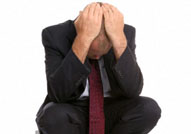 Swedish scientists have apparently found a 'strong link' between poor leadership and increased risk of heart trouble. In a study of 3,000 Swedish working men, published in the latest edition of Occupation and Environmental Medicine, the boffins found that feeling unsupported or victimised at work can increase stress levels – which in turn increases the risk of heart disease and heart attacks.
The survey discovered that those with more effective bosses – i.e. those that displayed greater empathy, better delegation skills, or more of a willingness to listen – had the lowest risk of suffering from heart disease. On the flip side, those with bad bosses were more likely to see their blood pressure rocket, or to take up unhealthy habits like drinking and smoking – both of which will massively increase the risk of them suffering some kind of heart problem.
So what can be done about it? The scientists reckon the most sensible approach is to try and improve the way managers manage. Anna Nyberg, from the Karolinska Institute in Stockholm, suggests: 'Interventions aimed at improving the psychosocial work environment... could focus on concrete managerial behaviours such as the provision of clear work objectives, information and sufficient control in relation to responsibilities.' You'd never have guessed she was a scientist, would you?