BAE slashes jobs and brings an end to English shipbuilding
The British defence systems company has announced it will cut 1,775 jobs across its English and Scottish yards and consolidate its shipbuilding in Glasgow.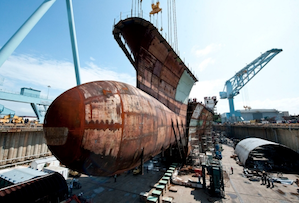 Those proud of England's maritime heritage may well have cause to get misty eyed this morning, as BAE decides to cease shipbuilding in its Portsmouth yard (the heart of British shipbuilding for 800 years and the birthplace of the famous HMS Dreadnought), consequently calling time on ship production in England all together.

The announcement was delivered along with the news of 1,775 job losses to be spread across BAE's UK operations – the company has put the restructuring down to a 'significant' fall in demand, following the end of aircraft carriers work it was undertaking for the UK Ministry of Defence.

About 835 employees will face the chop across BAE sites in Govan and Scotstoun in Glasgow, Rosyth in Fife and Bristol's Filton. An estimated 940 staff will lose their jobs at the historical Portsmouth site but the yard will remain open to support repairs and maintenance work – while ship making duties are ferried up to Glasgow.

'Following detailed discussions about how best to sustain the long-term capability to deliver complex warships, BAE Systems has agreed with the UK Ministry of Defence that Glasgow would be the most effective location for the manufacture of the future Type 26 ships,' it said in a statement.

'Consequently, and subject to consultation with trade union representatives, the company proposes to consolidate its shipbuilding operations in Glasgow with investments in facilities to create a world-class capability, positioning it to deliver an affordable Type 26 programme for the Royal Navy.'

The choice by the UK Ministry and Defence and one of the UK's largest companies to move its building operations to Scotland has raised some eyebrows. With Scotland moving swiftly towards a vote on independence, giving Scotland the UK's shipbuilding capabilities could be seen as a ploy to persuade Scottish voters of the virtues of remaining under the crown – letting them know exactly which side their tattie scones are buttered on.

'Alex Salmond was on a no lose situation', said MP for Portsmouth South, Mike Hancock.

'He would benefit if they closed the yard saying they're being punished. If they keep the yards open he'll say you're being bribed so from that point of view he's in a no lose situation.'

David Cameron said the shipbuilding job losses were part of 'difficult decisions,' made in the 'national interest.' Shipbuilding is due to come to an end in Portsmouth in the second half of 2014. It looks like Portsmouth and English shipbuilding could pay a heavy price for a last ditch and rather cynical political manoeuvre.