BAE threatened with £1bn fine as SFO gets tough
The Serious Fraud Office's prosecution of BAE on bribery charges is surprising, for all sorts of reasons.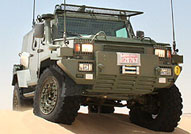 The Serious Fraud Office is set to prosecute BAE over allegations that it shelled out hundreds of millions of pounds in bribes to win lucrative arms deals overseas. It seems pretty clear that BAE indulged in some pretty dodgy dealings in the past; indeed, it basically admitted as much last year. And the fact that backhanders are par for the course in its line of work is hardly an excuse. But we're talking about Britain's biggest manufacturer here. Given the potential reputational and financial damage of criminal proceedings (the SFO is talking about a fine of up to £1bn), it's remarkable that they haven't cut a deal behind closed doors…

This latest SFO investigation apparently concerns arms deals with the likes of Tanzania, the Czech Republic, Romania and South Africa. But the notion that BAE has been greasing official palms to win contracts is hardly new; allegations like these have been hovering over the company for 20 years. One particular deal to sell jets to Saudi Arabia came under particular scrutiny, with suggestions that BAE had some kind of slush fund to pay out sweeteners to the Saudi royal family – but the probe was eventually dropped by Tony Blair back in 2006 on the grounds of national security, amid political pressure from both sides. And you can understand why: it would make everyone involved look bad, including the respective governments.
The arms industry is clearly a very grubby business, and it seems pretty obvious that this kind of thing goes on all the time – in fact, in some of these countries, using sweeteners like this is the accepted way of doing business. So BAE, which admitted last year that it hasn't always lived up to the highest ethical standards, was probably only doing what everyone else was doing (though it's always denied any wrong-doing). But of course that doesn't make it right, particularly since some of these deals were extremely dubious – like flogging an expensive and apparently unnecessary military air traffic control system to poverty-stricken Tanzania. So it's hard to feel much sympathy.

On the other hand, most of the people now running BAE weren't involved in that dubious era – and as last year's mea culpa showed, it's keen to clean up its act. If the SFO charges stick, it will have a big impact on its business – throw in a huge fine too, and there are bound to be consequences for the thousands of people it employs. Many people would probably love to see Britain out of the arms business altogether, but the fact remains that it's one of Britain's only export success stories - can we really afford to be giving that up at the moment?
Since the SFO isn't generally renowned for its aggression, we suspect the likeliest outcome is that they'll keep haggling away in camera and eventually compromise on a smaller fine and a limited admission of guilt (we doubt it would have got this far if the SFO's case was watertight). Whatever BAE's sins, we can't see the Government crippling Britain's biggest manufacturer in the middle of a recession, just before an election.