Bah Humbug - Debenhams demands discount from suppliers
The high street retailer's request comes at a time when suppliers are already feeling the strain over slow Christmas trading.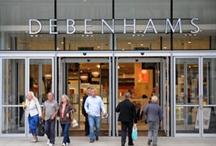 Just eight days before Christmas, Debenhams has a sprung a surprise of its own by demanding a 2.5% discount from its suppliers.

It means that the high street retailer will pay 2.5% less than agreed on all outstanding payments. A 2.5% contribution on orders that were placed but not yet delivered has also been imposed.
According to the FT, the high street retailer told its own-brand suppliers on Monday evening that it would take the money from their accounts just 24 hours later, on close of business Tuesday.

Simon Herrick, Debenhams' finance director, said in a letter to suppliers: 'As we will mutually benefit from the growth of Debenhams we are now seeking a contribution from our suppliers to support our commitment to on-going investment.'

Debenhams, the UK's second biggest department store, is currently on an ambitious expansion plan. Over the next four years, it plans to add 16 new stores to the 238 it currently has in 29 countries. Debenhams has also spent £25m on the revamp of its flagship Oxford Street store.

When unveiling a 2.7% fall in annual profits in October, the retailer had warned that it expected a cautious Christmas and predicted a tough consumer backdrop for 2014. Debenhams was also hit by a 1.6% rise in UK store costs, driven by higher rent, energy bills and staff pay.

Debenhams, which celebrates its 200th anniversary this month, said that asking for some slack from suppliers was not unusual in the retail industry. It pointed out that both John Lewis and Laura Ashley have asked for supplier discounts, although both these chains had demanded their discounts earlier in the year, and not just before Christmas.
Yet a spokesperson for Debenhams maintained that the timing of the demand 'lands when it lands', and said it was 'not to do with Christmas necessarily', the Guardian reported.

However, others have taken a more sceptical view: 'This smacks of a desperate measure to boost profits ahead of the new year trading statements,' one Debenhams supplier told the Financial Times.

Retailers have reported slow Christmas trading this year, not helped by warm weather which has left shops with stacks of unsold winter coats and jumpers. Figures from the British Retail Consortium showed shop footfall in November was 2.9% lower than a year ago and data from Kantar showed that the annual growth in grocery sales slowed to 0.8% in the four weeks to December 8, compared to 1.7% in the previous three month period.

Meanwhile rival department store chain House of Fraser, rumoured to have been preparing for a float in the new year, appears to have had a change of heart. It is reportedly in late-stage talks with the family-owned French department store Galeries Lafayette over a potential £350m sale of the business.