Balfour Beatty share price slides 7% after it rejects third Carillion offer
It's third time unlucky for Carillion with its sweetened £2bn offer, but Balfour Beatty's shareholders are getting restless as time runs out.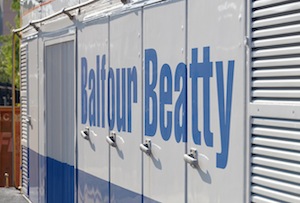 It takes two to tango and Balfour Beatty is steadfastly refusing to dance with Carillion, turning down a third merger offer from its rival that valued it at more than £2bn. With time for a deal fast running out, investors have opted to show their disapproval with a classic: the share sell-off.

The latest terms would have given Balfour's shareholders a 58.3% share of the merged company, a step up from the previous offer of 56.5%. Carillion also put a cash dividend of 8.5p per Balfour share on the table, bringing the deal's total value to £2.09bn.

That was more than 15% above the previous £1.89bn offer and a 36% premium on its target's typical share price before the offer was first leaked last month.

Even though it hasn't had a chief executive since it issued a profit warning back in May, Balfour board was still determined to see off the deal. In a statement to the stock exchange it said it's 'two key concerns' still hadn't been addressed: Carillion's plans to stop the sale of its US arm Parsons Brinckerhoff and shrink its UK construction business, 'when it is poised to benefit from a recovery in the market'.

It also hasn't asked for an extension to the 'put up and shut up' deadline of 5pm on Thursday, by which time Carillion has to make a formal offer and then, if rejected, walk away for six months.

Unless Carillion comes up with something drastic or Balfour's shareholders go for a full-on revolt, it looks like the end of the line for the deal for now. Investors weren't impressed though: Balfour's shares plunged as much as 7% this morning, having risen almost 12% since former boss Andrew McNaughton was sent on his way in May. Its spurned suitor, meanwhile, was down 2.7%.