Balfour Beatty's chairman is leaving after another profit warning
There's more bad news for Balfour Beatty today, as executive chairman Steve Marshall is set to leave the beleaguered business after its third profit warning in five months.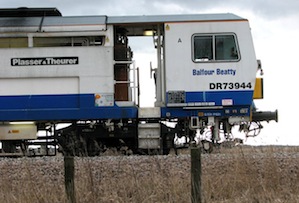 Shares in Balfour Beatty fell by more than 20% this morning after it announced that profits in its UK construction services division would be £75m less than expected - its third profit warning in just five months.

It has now appointed KPMG to review the division's contracts in the hope of turning things around, but the bad news continues to build up (see what we did there...) for Britain's biggest construction services company.

Chairman Steve Marshall has been in an executive role since chief exec Andrew McNaughton stood down in May this year, but today said he will leave once the search for a new CEO and non-exec chairman is completed. The former Railtrack boss has been on the board since 2005 and chairman since 2008.

'This latest trading statement is extremely disappointing,' he said. 'There has been inconsistent operational delivery across some parts of the UK construction business and that is unacceptable. Restoring consistency will take time and it has our full focus.'

The company has had a tumultuous time since May, batting away three attempts at a merger from competitor Carillion last month. Besides finding a new chief exec, it said its future priorities were completing the sale of its US design firm Parsons Brinckerhoff and to refocus the group on its 'core' Anglo-American markets.

Aside from the beleaguered UK construction business, the rest of the company is trading broadly in line with expectations, it said. But this did little to reassure investors, with shares down around 20% in mid-morning trading to 180p. They had already fallen off a cliff back in May and were down 22.5% this year before today.
Source: Yahoo Finance