Ball's up for ITV
Ex-BSkyB boss Tony Ball looks set for the top job at ITV - which won't please everyone...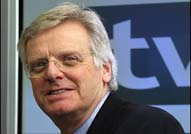 There'll be a few nervous people in the ITV boardroom today, judging by reports that ex-Sky man Tony Ball is in advanced negotiations to take over from Michael Grade as CEO of the embattled broadcaster. According to the FT, Ball was actually offered the job last week, and he's now thrashing out a deal with the negotiation committee (apparently he's playing hardball over his pay packet). Since he's been fairly uncomplimentary about both Grade and the board in the past, this appointment is likely to put a few noses out of joint – although maybe it's just the sort of shake-up ITV needs…

Ball certainly hasn't been backwards in coming forwards about the ITV job; in fact, he's been campaigning in the City to persuade investors to give him the role for ages. But he wasn't the initial front-runner: that dubious privilege went to HMV boss Simon Fox, who eventually decided to stay at the music retailer (a wise move, you might argue). Then there was Apple's Pascal Cagni, but doubts were soon raised about his suitability as he hadn't run a plc before – while potential internal candidates like COO John Cresswell were questioned for the same reason.
Enter Ball. Not only has he run a public company, but his impressive background in television arguably makes him the best-qualified of all the candidates to get ITV back on track (although we'd love to know what Sky - which is of course a big ITV shareholder - thinks about him running a potential competitor). If he does take the job, the broadcaster could be in for some radical changes: Ball is expected to try and slash costs, while rumour has it that he's even considering the sale of ITV's production business (which makes soap favourite Coronation Street) to bolster the share price. And he's unlikely to want Grade looking over his shoulder while he does it.

The woes of ITV are in stark contrast with the situation over at the BBC, which appears to be in trouble for being too successful: CEO Mark Thompson and BBC Trust chairman Sir Michael Lyons have both been forced to acknowledge that the corporation may have to radically shrink in size. In a letter to licence fee payers (i.e. most of us), Sir Michael said: 'We want a BBC that is smarter, more efficient and no bigger than it needs to be.' (Whether that efficiency will be passed on to the public by way of a licence fee reduction remains to be seen…)

Still, it looks like big changes could be afoot for ITV (especially if all this off-the-record press briefing by both sides is anything to go by). Whoever does take the helm is going to face some tough decisions in the coming months, and they run the risk of upsetting a few people along the way. Seeing as he clearly isn't afraid of ruffling a few feathers, Tony Ball might be the perfect candidate...

In today's bulletin:
Bank holds rates - as banker breaks ranks
More reasons to invest in Morrisons
Ball's up for ITV
UK lags behind as leaders hide away
Bosses to try weaning workers off Facebook