Balls: 'There is no future for Britain in walking away from our biggest market'
Ed Balls makes his debut on stage at the CBI Conference to defend our relationship with Europe.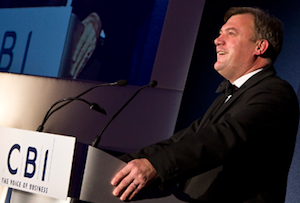 Shadow Chancellor Ed Balls echoed the sentiments of the CBI today at its annual conference, admitting our relationship with Europe needs to be reviewed but walking away is not the answer.

The CBI revealed EU membership to be worth £62-78bn to the UK and between 4-5% of our annual output – reiterating that the EU is best for business.

Ed Balls, in his CBI Conference debut, was quick to agree: 'Britain is better placed to shape Europe's future if we are fully engaged rather than having one foot out the door.

'We are clear that there is no future for Britain in walking away from our biggest market – or threatening to do so for reasons of internal party management. Europe needs reform, but to walk away from our EU membership would be reckless, foolish and deeply damaging. On Britain's future in Europe, the national interest must come first.'

Putting Europe to one side, he took his chance to take a pop at the Help to Buy policy and George Osborne's 'unbalanced' economy.

"'Built to last" means a recovery based on long-term investment, exports, innovation and productivity growth. That is why we share your concerns about the Chancellor's current reliance on boosting housing demand through taxpayer-guaranteed mortgages to secure recovery through the Help to Buy scheme, while failing to take action to boost housing supply.

'The danger is that by boosting demand while failing to build more homes, the Chancellor will deliver an unbalanced recovery and make home ownership even further out of reach for the aspiring first time buyers his scheme should be helping.'

He also used his moment on stage to defend Ed Miliband's promise to freeze energy prices – something the coalition has dismissed as a 'con'.

'We have said that we will introduce a new, tougher and more transparent regulatory regime for what remains a highly concentrated utility industry.

'And while these long-term reforms to increase competition are being introduced, we believe it is right and fair to give households and businesses some respite with a 20 month price freeze just as we introduced a one-off windfall tax to give the taxpayer redress after the post-privatisation excesses in the 1990s.'

It might have been Ed's first time on the stage at the illustrious event, but the shadow chancellor was keen to make it clear he and the CBI have always been good pals – reminiscing about the time he and Digby Jones launched a school's enterprise challenge up in Wakefield.

'Digby began what became a passionate speech about enterprise education to a group of over 200 fourteen year olds and their teacher, with a totally inappropriate joke, about a lawyer, a pelican and which one could stick his bill where.'

Always good to get a gag in eh Ed...